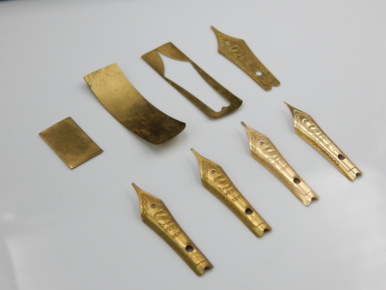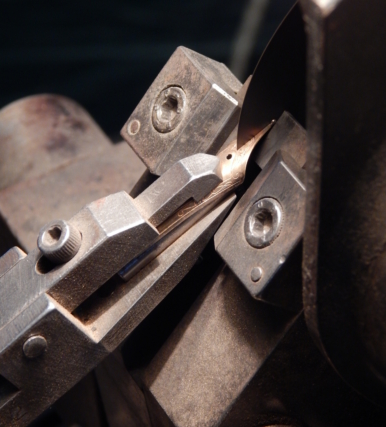 Gold is the most ductile metal in nature, it means that 1 gram of pure gold 24 kt can be laminated reaching one square meter! This quality is very important for nibs because a stripe of gold can reach a very high flexibility. Besides, gold nib production can be achieved only with deep know how experience, as well as, a real skilled artisan craftsmanship.

Giving you a pleasure of writing, with our "know how" we can produce for you a stiff nib, when required, or a very flexible ones, to show all your writing personality.
Our nib is made of a 18 kt solid gold and requires more than 16 manual steps before being tried at the last step, when touching the ink.
Starting from the small squared gold piece, which is laminated in several steps, to make its flexible tip yet solid but his body thin and elastic, and one micro bead of Iridium, smaller than a millimeter is welded on its tip.
The Iridium is a metal more precious than gold and so durable that will allow you to write the whole life. To complete the body of the nib we cut it in half with a spinning blade thinner than a human hair....
But do you know what is the most precious thing? It is the hand of skilled craftsman, who passionately and fully manually try the tip of the nib smoothing with wisdom and experience its tip into countless positions of his hand with one ambition: to make you write with pleasure. This is our work, our passion and this way we thank you for choosing our own creation.
A Santini gold nib goes through many manual production steps, and each nib can be compared to a jewel, far from industrial production of steel nibs.
We don't produce steel nibs to offer you our uncompromising writing experience.
24 karats means 1000 parts of gold.
To offer a high quality precious object we produce 18 Kt gold nibs for all our pens.
Silver, almost as desirable as the more valuable gold, must likewise be alloyed,
usually with copper, to be usable for jewelry and writing instruments.
The usual silver alloy is sterling silver. It consists of 925 parts of silver and 75 parts of copper.
We produce solid rose, white and yellow gold nibs 18 kt.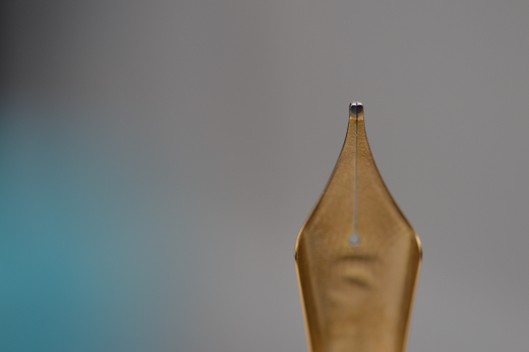 Solid Rose Gold nib 18 kt
Completely produced by a 18 Kt rose gold stripe.

To create this nib we used a alloy that kept the 750 thousandths of pure gold, but adding for the rest of the alloy only copper

and

it

was

necessary

to

develop

a

differentiated

production

,

as

the

metal

made

harder

by

copper

needs

several

rolling

passages

to

prevent

the

too

hardened

metal

from

breaking.

A real Italian craftsmanship. Available on all models on request or on Libra, Michelangelo, Nonagon, Diamond models with solid bronze trim.




We produce solid rose gold nib 18 kt in sizes: XF, F, M, B, STUB, Cursive Italic, Architect, Left Oblique, Chinese Calligraphy and Flexy. A superflexy nib is not available in rose gold version.
Solid White Gold nib 18 kt
Completely produced by a

18 Kt white gold stripe

.

Did you know that we are the only company which produces solid white gold nib 18Kt? Most of white gold nibs on the market are simply rhodium plated but produced in yellow gold. What is the difference between white and yellow gold and how the nib performs on paper? The biggest difference is in the quantity of solid silver, that is very soft metal and at the same time remains stiff under the several steps of lamination. The characteristic of the metal makes the nib more stable and the beauty of natural color of the material will give you a pleasure to admire a real beauty of the pure white gold, like a real jewel.




A solid white gold nib is available on all models by request.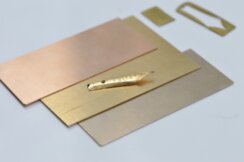 WHITE GOLD VS RHODIUM PLATED








WHITE, YELLOW, ROSE GOLD 18 KT
We are proud to announce that we are the first Italian factory that produces a nib number 8 and feeder completely
"in house", the decoration of the two-tone nib, is made patiently and with mastery by hand as well.
Nothing industrial, 100% Italian craftsmanship.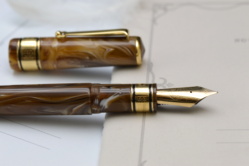 The nib number 8 is available in sizes: XF, F, M, B, Stub, Cursive Italic, Chinese, Architect.
MEASUREMENTS:
length: 42 mm
width max: 11,10 mm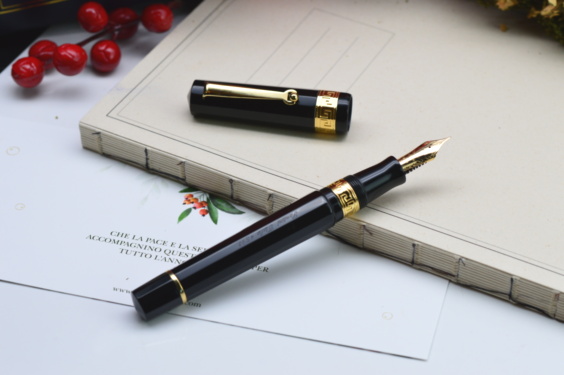 The process of manufacturing a gold nib.



We produce solid gold nibs 18 Kt size 5, 6, 8.
the gold strip
is cut to the right size
the writing ball is welded on
the writing ball is shaped
Iridium point of the nib.



A very important rule plays the welding of iridium micro ball. The welding of the writing ball of expansive iridium micro point is a particularly important process.
Without this special point the nib would be worn down by writing after a short time and loose their predetermined stroke width. Iridium points can last lifetime when created with care. Welding the ball demands the utmost precision and is decisive in the future working and quality of the nib.
Did you know?
Iridium - ten times more valutable than gold, to make sure that the nib does not change, even after years of use.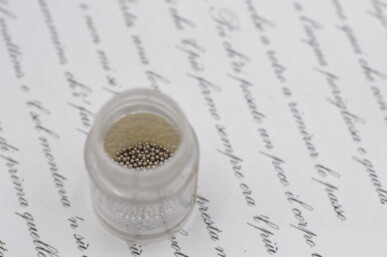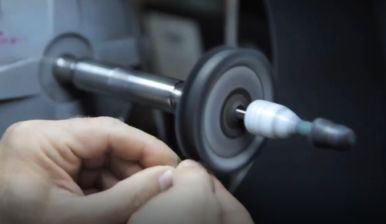 Each nib is researched, produced and polished by hand. By adjusting the position of the fountain pen in the hand, each individual is able to find the most comfortable writing position.
Our company produce solid gold nibs in different sizes and can personalize a nib for you if you have a special request.
EF - 0.5 mm
F - 0.7 mm
M - 0.9 mm
B - 1.2 mm
STUB - 1.1 mm
FLEXY
SUPERFLEXY
LEFT OBLIQUE
REVERSE OBLIQUE
ARCHITECT'S POINT
CHINESE CALLIGRAPHY
Point sizes indicated in the following tests are just for reference. Being the point finished by hand, the size may vary 10-15% of the indicated measures.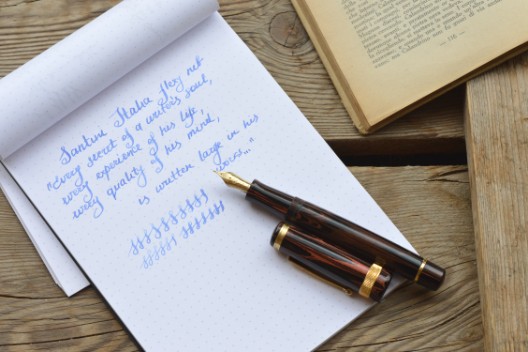 Flexy & Superflexy gold nib.



Our
flexy gold nib
goes through many stamping and laminating steps, to reach a half of the thickness of the regular one, the hole at the end of the slit in the middle of the nib, is positioned further back than the regular ones.
With a little pressure of your hand, with our F Flexy nib, you can go from F to M & Broad size.
A regular flexy nib has a medium high flexibility and it is indicated for everyday writing. The nib is very soft and pleasant on writing.
A
Superflexy
nib has a bigger flexibility of a regular flexy. Due to its very high flexibility it needs a big ink flow and for the correct and pleasant use requires a
slow writing.
This nib can be compared to the vintage flexible nibs and it is more indicated for calligraphy writing.
How to find the right nib for your handwriting?