GUIDE HOW TO CARE OF YOUR NIB AND PEN
The idea that one should not lend a fountain pen is widespread. The nib could become bent or changed otherwise by another type of writing position. Have no fear! The high flexibility of a gold nib always withstands considerable pressure. The fine writing ball of extremely hard metals related to platinum is scarcely worn by years of use. So a nib can experience no damage through use by a strange hand, unless it is damaged by being hit, bent or dropped. Bent nibs should always be repaired, if possible, or replaced.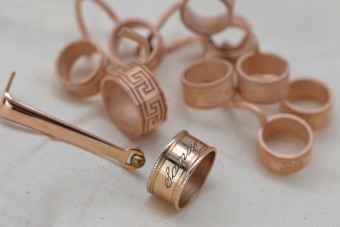 How to clean and care for Bronze rings and clip
Bronze is an alloy of copper and tin, and rings made of it will
tarnish with time
. The tarnish is a greenish layer of copper oxide formed when bronze comes into contact with oxygen and is called patina. Let's see how you should clean and care for your bronze jewelry, and how you can remove its patina in case you prefer a shinier look for your bronze pieces.
Cleaning bronze is pretty straightforward. First, use a jewelry polishing cloth to wipe your bronze rings and clip. Then apply some silver shine polishing liquid to the piece (you can also use metal polishing cream), and rub it to take out any dirt that has accumulated.
After the piece is cleaned, dry it using a towel.
Polishing Bronze While Preserving Its Patina
Some people like the patina that accumulates on bronze. Once formed, this layer can actually protect bronze from corrosion.
If you want to keep the patina on your bronze rings, do not clean it with any household cleaners.
Just use a dry cloth to wipe gently the dirt off the item, and then clean the hard-to-reach spots with a soft brush.
Before polishing your bronze rings, make sure it is completely dry. Apply a thin layer of
paste wax
on the surface of the piece (you can use a clean paintbrush).
After covering the item with wax, let it dry, and then buff your jewelry with a soft cloth.
Care and polishing of ebonite pens
Ebonite is a natural material, and many of our customers ask how to take care of it and keep the surface always brilliant. Nothing is easier. Try to polish your pen with
woolen clothes
, you don't need to buy a specific product for it, find some old woolen scarf or similar that you don't use, polish
thoroughly the body and cap and you will see the
immediate result, your pen will look like new.
We use the highest quality certificate
ebonite material for the production and there is no risk that ebonite will lose its
color or break under the sunlight, and a little maintenance will bring it to the
new condition.
Important! Never use solvets, alcohol or chemical products that may damage the surfaces and the materials of the pen.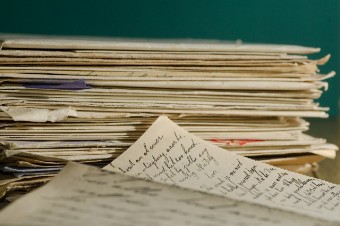 Ink flow stops or not regular.




Cause:

Your piston filling is not filled correct, too much air inside the piston.




Remedy:

Empty the piston. Fill it with a water. Repeat it 2/3 times unless your filling system is perfectly cleaned. Follow the instructions how to fill your piston pen.


Cause:
The nib slit, when held to the light, no longer shows a hairline opening.
Remedy:
A sharp, very fine cutter should be inserted into the slit carefully from below.





Cause:
The nib slit is open too wide.
Remedy:
Press the nib together from both sided until the tips cross slightly over each other.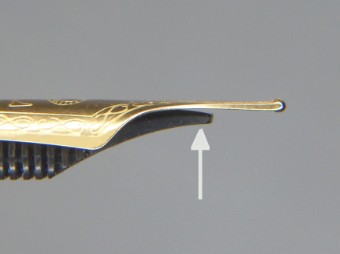 Ink flow stops with light pressure on the paper.
Cause:
The ink passage is separated from the nib. A gap is visible.
Remedy:
Press the rounded back of the nib gently on a surface. In most cases, though, the nib must be removed and reshaped.
Correct use of your fountain pen.
Do not press hard when writing, as this can damage the nib. A good fountain pen should glide effortlessly across paper.

Use fresh ink. Do not use bottled ink that is more than a year or two old. If you do use older ink, you should first examine it for any mold that may be growing on the surface. Then stir the old ink to make sure that there are no lumps or sediment on the bottom (a sign that the ink is solidifying). Thinner fluid inks are less likely to solidify than thicker inks. And if the ink has not been used for several weeks, shake the bottle before filling the pen.

Black ink contains gum arabic. If you allow black ink to dry inside of the nib, it may cause permanent damage. If you do not plan to use your fountain pen for more than a couple of days, clean your fountain pen before the ink has dried.


Avoid using chemically treated paper, which usually has a slick feel, because it does not absorb ink well. Ink will collect in the nib and ultimately clog the feed. If your pen skips after using treated paper, wipe the nib with a lint-free cloth. If this does not work, wash the pen out with water.

When traveling by plane, we recommend that you either fill your converter completely or leave it empty to reduce the risk of leakage. Always keep the nib upright during takeoff. When opening your fountain pen in flight, you should hold the pen upright and remove the cap slowly. Always keep your pen capped when not in use.

Do not loan your pen to anyone, as the nib will adapt to your writing style (pressure, angle).


If your pen doesn't "start" right away after not being used for a couple of weeks, ink has probably dried and clogged the nib and/or the feed. To start the ink flowing again, resist the urge to press down hard on the pen. Instead, wet the point of the nib with water or ink of the same color. If that doesn't work, wash the pen out.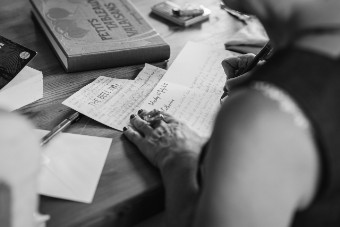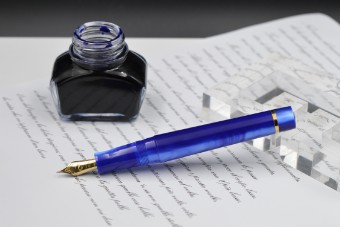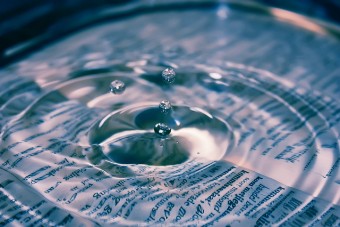 Cleaning instruction of a Fountain Pen.



Unscrew the barrel from the nib section (if it is converter filling, for piston filling pen see below).
Rinse the nib by filling and emptying it with water (repeat this until the water is clear). Caution: Ink residue will flow out.
If the pen uses a cartridge/converter, place the nib section into a beaker or other container of clean water and let it soak overnight.




The water level should completely cover the nib.




Be sure to use room temperature water. Distilled water will work best (tap water sometimes contains particles which may clog the feed).

Never use

warm or hot water (heat will expand the inner works of the pen) or alcohol, as these will damage the feed or other parts of the pen.




Let the nib soak for 10 to 15 minutes, then blot dry with a paper towel. Soak the nib overnight if necessary.



Wash your pen every few weeks or whenever changing ink colors.
How to clean piston filling pen.
Cleaning a piston fountain pen is quick and easy. Proper cleaning and care of your pen will make it last longer and write better.
First, you should remove any excess ink from the pen.
Fill your pen with a water. Please u

se room temperature water.
Repeat it 3/5 times.

You will need to repeat this process until the water runs clear from the pen.
Dry off your pen using a soft microfiber towel. That's all there is to it. It is ready to write.
Use only warm water when cleaning your pen.
Never use
additives such as cleaners or liquid soap, as these may damage your pen. If you have a questions, please don't hestitate to contact our Customer Service for help.
How to store your fountain pen.



If you do not plan on using your pen for a prolonged period of time, wash and empty it out before storing it away.
When not using the pen, keep it stored vertically with the nib pointing up to prevent ink from settling in and clogging the feed.