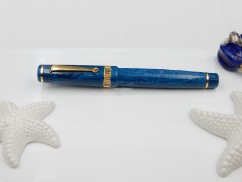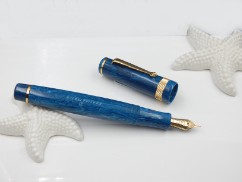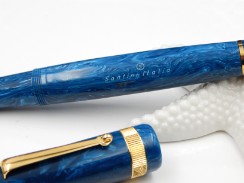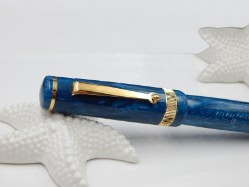 L I M I T E D E D I T I O N
_________
_________
_________
Laguna blue Demo Limited Edition pen 88 pcs
A fabulous place in northern Sardinia well known for the magical mix of sun and sea, is reflected in blue pen material ripples.
A limited edition pen, featuring our unique vacuum filling system.

sold out


Add
Details
Vacuum filling system of Laguna Blue Demonstrator pen was studied and created in our laboratory. Technically it works like Parker Vacuumatic but instead of a rubber membrane, the depression is created by alternating movement of a short piston. It works away from ink, sealed in its own chamber so the gasket could last endlessly while the membrane was easy to dry out and break being in touch with ink. The feeder is in ebonite expressly made for that particular filling system. It has a capillary tube and allows the air to go out from the pen and replace with ink through the capillary tube. All parts of the pen are expressly designed and made for this special filling system. The pen comes with its solid gold nib 18kt size 6 and ebonite feeder.

It is made with a blue laguna machined acrylic resin.
The capacity of the ink is very big and it is about 2 ml
Features


machined acrylic resin

ebonite feeder

vacuum filling system

18 KT gold nib size 6
ink capacity 2 ml

limited edition 88/88

Lifetime warranty
Specifications

Nib sizes:
M, F, EF, B, STUB, Italic, Flexy
Please note,
if you order B, Stub, Italic, Flexy nib
we may need 3 - 5 days more to dispatch your order
Shipping Information:

Dispatch time:
5/7 working days if in stock*
Europe delivery UPS:
2 - 4 working days
USA/ Canada delivery UPS:
3 - 5 working days
Worldwide delivery:
5 - 10 working days
ADD TO MY ORDER
Nibs
Immediate availability
Add

dispatch time 25 working days
Immediate availability
Add

sold out


This product is unavailable.
Add
Please don't hesitate to contact us via email or Live Chat!
We are always happy to help!