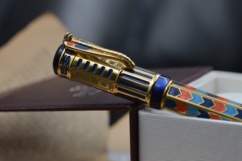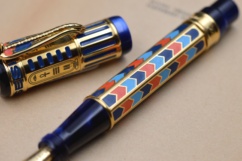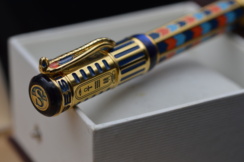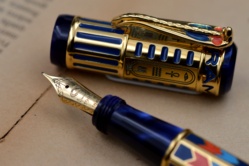 I T A L I A N H E R I T A G E
_________
_________
_________
Tutankahmon's Treasure is a limited edition 88 pcs for fountain pen and 88 pcs for rollerball.
The cap of the pen is made of 925 solid silver, but the highlight of the pen for us was to really give to the pen the impressive and rich features of the Tutankhamun gold sarcophagus and mask, probably the most common image that comes to our mind when we think about the pharaon.

dispatch time 30 business days
Add
Details
We studied carefully all the decorations and we thought how to repropose the same richness on the pen.
We decided for the blue enamelled lines that beautifully henance the gold of the mask, and are reproduced both horizontally and vertically on the cap,more than 30 engravings that are filled with blue enamel completely by hand.
Among them, dividing the upper part of the cap in four, inscriptions in hierogliph.
In the centre of the cap the clip is a reproduction of the cobra mask of the pharaon, with similar feautures and enamelled colors.
The body of the pen is a eight sided barrel, made in silver 925 with bronze segment also enamelled by hand.
More than eighty small cavity, in three different colors that are painted by our artisans and both for color and for shape are perfectly matching the decoration of the outside Tutankhamun sarcophagus!
A big 18 kt gold nib made in our factory is completing the pen.
The result is a catching eye pen that maybe would have conviced also the great Pharaon to bring with him!!....
100% made in Italy, 100% Italian class.
Features


cap solid sterling silver 925

clip solid sterling silver 925

body inserts bronze

hand enameled body & cap

converter filling system

18 KT gold nib size 6
solid sterling silver rings 925

limited edition 88/88

International warranty
Specifications

Body length (no nib):
110 mm
Nib sizes:
M, F, EF, B, STUB, Italic
Flexy nib:
momentary not
available
Please note,
if you order B, Stub, Italic nib
we may need 3 - 5 days more to dispatch your order
Shipping Information:

Dispatch time:
25/30 working days*
Europe delivery UPS:
2 - 4 working days
USA/ Canada delivery UPS:
3 - 5 working days
Worldwide delivery:
5 - 10 working days
ADD EXTRA NIB TO MY ORDER
Nibs
Immediate availability
Add
Please don't hesitate to contact us via email or Live Chat!
We are always happy to help!