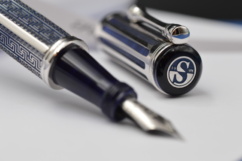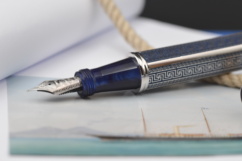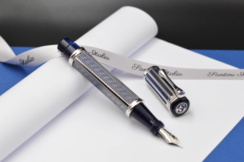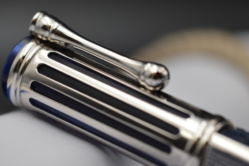 L I M I T E D E D I T I O N
_________
_________
_________
A sum of elegance with classic proportions.
The history of the Mediterranean style that has conquered the world.
Class and balance joined to create an exclusive object that withstood the test of time.

dispatch time 30 business days
Add
Details
The cap, in solid silver 925 is fluted to resemble the column body.
The rings of the pen are similar to the capital of the column and the inside decorative greek pattern is completeley painted by hand, and refers to the beauty of the greek temples of the past, like the "Parthenon".
Comes in a blue "Mediterranean sea" color with rhodium finishing or the classic black with gold.
100% made in Italy, 100% Italian class.
Features


solid sterling silver 925 cap

machined acrylic resin

completely hand enameled

converter filling system

18 KT gold nib size 6
solid sterling silver rings 925

limited edition 88/88

International warranty
Specifications

Nib sizes:
M, F, EF, B, STUB, Italic
Flexy nib:
momentary not
a
vailable
Please note,
if you order B, Stub, Italic nib
we may need 3 - 5 days more to dispatch your order
Shipping Information:

Dispatch time:
25 working days if not in stock*
Europe delivery UPS:
2 - 4 working days
USA/ Canada delivery UPS:
3 - 5 working days
Worldwide delivery:
5 - 10 working days
ADD EXTRA NIB TO MY ORDER
Nibs
Immediate availability
Add

dispatch time 30 business days
Add

dispatch time 30 business days
Add
Please don't hesitate to contact us via email or Live Chat!
We are always happy to help!