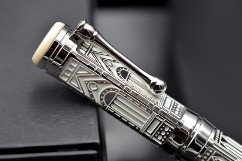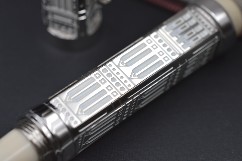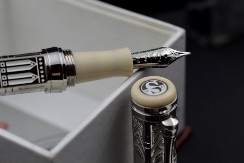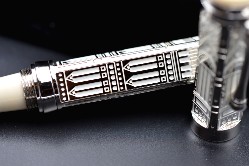 I T A L I A N H E R I T A G E
_________
_________
_________
84 metres in height and about 15 metres wide, the Giotto's Bell Tower is the most eloquent testimony of fourteenth-century Florentine Gothic architecture.
Covered with white, red and green marble, Giotto's Bell Tower is the most beautiful Italian bell tower.

rhodium plated
dispatch time 30 business days

Add
Details
These pens, which are a tribute to this monument, are machined using a block of 925 solid silver.
Their sides are bronze chiselled, to reproduce the original facades of the tower. Then, the pens are patiently hand-enamelled, one by one.
With more than 220 tiny decorations and spaces covering the entire surface of these pens, all hand-enamelled, the final result is a fine example of Italian craftsmanship.
A real art piece, just like the real bell tower.
Available in rhodium or gold plated
100% made in Italy, 100% Italian class.
Features


machined sterling silver 925

inserts body/cap bronze

converter filling system

solid sterling silver rings 925

hand enameled




limited edition 88/88

International warranty
Specifications

Nib sizes:
M, F, EF, B, STUB, Italic
Please note,
if you order B, Stub, Italic nib
we may need 3 - 5 days more to dispatch your order
Shipping Information:

Dispatch time:
20 working days*
Europe delivery UPS:
2 - 4 working days
USA/ Canada delivery UPS:
3 - 5 working days
Worldwide delivery:
5 - 10 working days
ADD EXTRA NIB TO MY ORDER
Nibs
Immediate availability
Add

vermeille
dispatch time 30 working days
Add

rhodium plated
dispatch time 30 business days

Add
Please don't hesitate to contact us via email or Live Chat!
We are always happy to help!