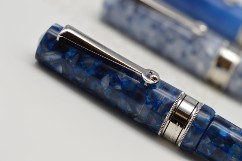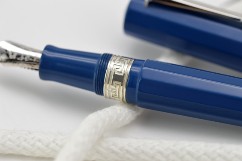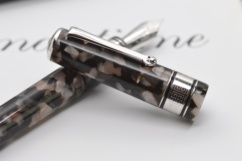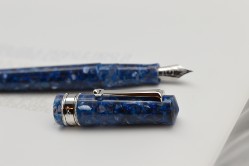 Classic, elegant, light, with piston filing system and 18Kt flexy gold nib Libra has all the features to become your favorite everyday pen.
A fountain pen that for its class and price will conquer you.
Details
Blue represents the healing nature of water and the power of stormy seas. It's what separates bodies of land from one another, and it's a marker of loyalty and fidelity. While blue conjures images of sky and sea, it's also the color of bravery and dedication. Blue represents introspective journeys and symbolizes wisdom and depth of understanding.
Features


machined acrylic resin amber color

piston filling system

18 KT gold nib

plastic feeder / ebonite feeder on request

rhodium plated trim / gold trim on request
Specifications

Nib sizes:
M, F, EF, B, STUB, F Flexy, Italic
F Flexy nib:
available just with ebonite feeder
Please note,
if you order B, Stub, Flexy, Italic nib
we may need 3 - 5 days more to dispatch your order
A superflexy nib is available only in gold version
Shipping Information:

Free Worldwide delivery with UPS
Dispatch time:
3-5
working days*
Europe delivery UPS:
2-4 working days
USA/ Canada delivery UPS:
3-5 working days
Worldwide delivery:
5-10 working days
Please don't hesitate to contact us via email or Live Chat!
We are always happy to help!